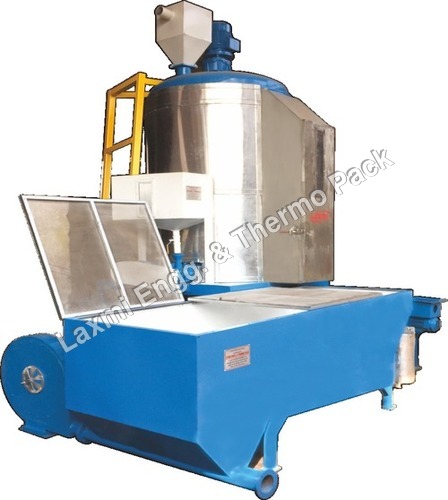 EPS Continuous Pre Expander
Product Description
EPS Continuous Pre Expander
Function and Feature
All process Including Filling, Expanding, Sieving, De-Lumping and Conveying Work Automatically.
Primary and Secondary Expansion Device To Get Density of 8-30 g/l.
Inner Shell of Expansion Are Made of Stainless Steel With
Insulated Outside: Lower Energy Wastage
Screw Conveyor with Drive for Material Feeding is Optional.
Drying system can be Selected According to Individual's Need.
Technical Specification
Item




Type

Expansion Container

Volume

¢700 mm

¢900 mm

¢1200 mm

Diameter

0.6m3

1.2m3

2.2m3

Use able volume

0.4m3

0.8m3

1.5m3

Steam

Entry

DN20

DN40

DN40

Consumption

80-100 kg/h

100-150 kg/h

150-200 kg/h

Pressure

0.6-0.8 Mpa

0.6-0.8 Mpa

0.6-0.8 Mpa

Compressed air

Entry

DN15

DN20

DN25

Pressure

0.6-0.8 Mpa

0.6-0.8 Mpa

0.6-0.8 Mpa

Drainage

Condensate

¢20 mm

¢20 mm

¢20 mm

Productive capacity

15 g/l

100 kg/h

150 kg/h

250 kg/h

20 g/l

120 kg/h

200 kg/h

300 kg/h

25 g/l

150 kg/h

250 kg/h

400 kg/h

30 g/l

200 kg/h

300 kg/h

500 kg/h

Material conveying line




¢75 mm

¢100 mm

¢100 mm

Power




7.1 kw

8.56 kw

10.05 kw

Density

First expansion

14-30 g/l

13-30 g/l

12-30 g/l

Second expansion

9-13 g/l

9-12 g/l

8-11 g/l

Overall Dimension

(LxWxH)

3800x2660x3200mm

3800x2900x3200mm

4200x4000x3700mm

Weight




1300kg

1600kg

2000kg

Room Height Required




5000

5000

5500