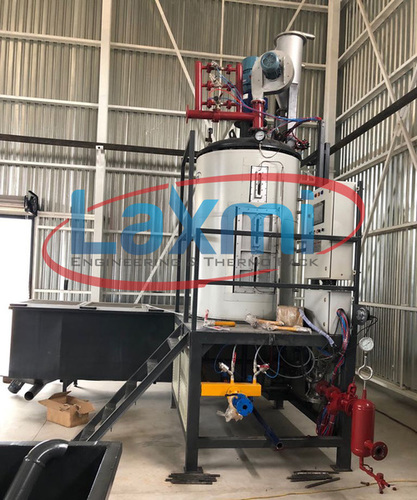 Eps Batch Pre Expander
Product Description
Eps Batch Pre Expander
We have got dynamic position in the world market by providing EPS Batch Pre Expander. The product offered by us has wide application as it is used for shaping and blocking purpose. This product is manufactured at our hi-tech production line using pristine quality components and cutting edge technology by our dedicated professionals. Moreover, we are offering this EPS Batch Pre Expander to our clients at market leading prices within promised time span.
Features:
Trouble free operation and equal density distribution
Stabilization of EPS bead in the fluid bed
High material throughput with low power consumption
Long functional life with less maintenance
Other Details:

Pre-Expander Machine forms the base of further manufacturing of expandable polystyrene. It is designed with high degree of automation, dependable controls and user friendly interface. This is ideal to provide reproducibility with simple operations and features. They bring different economic advantages together that makes it ideal for shorter cycle as well as intermediate storage times. In addition, it is also used with density control options, electrical temperature controllers for high densities and cellular wheel sluice for transporting the material to the silo.

Features of Pre-Expander Machine:

Even density distribution system with homogeneous temperature distribution
Stabilization of the beads in the fluid bed
High material throughput with low energy consumption
Highly stable ensuring less steam consumption
Including Common Dryer Bed, Auto Feeder, Weighting Scale, Sieving Devices Etc.
Steam System: Steam Pressure Reducer and Angle Value to Control Steam.
Filling System: Adopts Electronic Weighting System for Material Filling Automatically.
Pressure Sensor: pressure Sensor with multi steam Exhausting system to keep expansion Chamber pressure stable, also Reduce steam consumption.
Material Level Control: Adopts photo sensor to control the expansion level.
Electric Control: Adopts Plc and touch Screen, Electronic parts, Valves are Famous brand.
Technical Specification
Item




Type




LSPB-50

LSPB-90

LSPB-130

Expansion Container

Volume

500 mm

900 mm

1300 mm

Diameter

0.14m3

0.85m3

2.4m3

Use able volume

0.1m3

0.6m3

1.6m3

Steam

Entry

DN25

DN40

DN65

Consumption

0.5-0.7 kg/cycle

2.4 kg/cycle

10-12 kg/cycle

Pressure

0.6-0.8 Mpa

0.6-0.8 Mpa

0.6-0.8 Mpa

Compressed air

Entry

DN20

DN25

DN40

Consumption

0.2-0.3m3/cycle

0.3-0.4m3/cycle

0.7-0.9m3/cycle

Pressure

0.6-0.8 Mpa

0.6-0.8 Mpa

0.6-0.8 Mpa




Drainage port

DN 50

DN 80

DN 100

Drainage

Condensate

DN 50

DN 80

DN 80

Productive capacity




13 g/l 70~90kg/h

13 g/l 180-200 kg/h

12 g/l 300-400 kg/h




18 g/l 110~120 kg/h

18 g/l 300-320 kg/h

15 g/l 500-600 kg/h




25 g/l 160~180 kg/h

25 g/l 380-400 kg/h

20 g/l 800-900 kg/h




32 g/l 200~220 kg/h

31 g/l 480-500 kg/h

30 g/l 1000-1200 kg/h

Material conveying line




75 mm

100 mm

150 mm

Power




13.41 kw

14.9 kw

18.6 kw

Density




12-140 g/l

12-110 g/l

12-30 g/l

Overall Dimension

(LxWxH)

4600x3800x3800mm

4600x4000x4900mm

6500x4500x4900mm

Weight




1500kg

2500kg

3000kg